mobile

apps for

healthcare
creator of the world's #1 sepsis app
We create mobile apps that let health professionals do their jobs better
Create intuitive and easy-to-use clinical decision support apps that improve care team effectiveness and patient outcomes
Provide high-quality point-of-care disease management information based on the latest clinical practice guidelines
Focus on critical, time-sensitive medical conditions where mobile apps can have the greatest impact on clinical workflow and timely patient care 
Sepsis Clinical Guide app
Sepsis Clinical Guide is the #1 app on the diagnosis and management of sepsis, a serious systemic infection that affects over 1 million people and results in over 250,000 deaths every year in the US alone.
The app contains comprehensive information on the signs and symptoms of sepsis, risk factors, diagnostic techniques, management approaches according to infection origin, and topics specific to the management of pediatric sepsis. Also included are a relevant drug guide and clinical scores used in sepsis management.
This is a professional app intended for intensive care and ER physicians, hospitalists, nurses and other healthcare professionals who treat seriously ill patients in acute care settings. Medical students and residents, especially those rotating through the ER and ICU, will also find it invaluable.
The app's content is constantly being updated according to the latest practice guidelines from leading guideline making bodies such as the Surviving Sepsis Campaign. The app and all content updates are provided free of charge thanks to the generous support of Beckman Coulter, a global leader in the field of medical diagnostics.
Click on the app's chapter icons in the adjacent prototype to explore its table of contents and functionality. Active UI elements will be highlighted in blue when you click on a screen. To explore the app's page functions, navigate to the Management chapter, Empiric Antibiotic Therapy section, and click on the Sepsis of unknown origin – Pseudomonas unlikely page.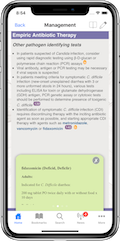 Contextual info
Contextual information such as drug administration instructions, footnotes and citations is accessed via discrete tabs and content markers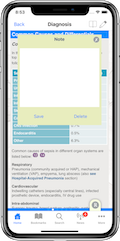 Notes and bookmarks
Pages can be easily annotated and bookmarked to personalize information and allow faster access to frequently used content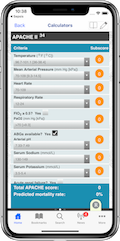 Medical calculators
More than a dozen critical care and sepsis related medical calculators and scores aid clinical decisions and risk assessment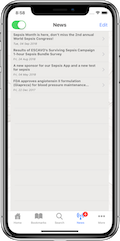 News feed
Important articles and news items on new developments in sepsis treatment are periodically published in the app's news feed
Sepsis, SIRS, pseudosepsis, sepsis bundles, pathophysiology and more. Updated research provided. Excellent resource!
Android app user
Amazing app, easy to use and current scientific content! Wonderful work done by the team. Looking forward to more such apps!!

Android app user
One of the best review that I ever read. Quick, easy, simple words that everyone can understand. Thank you for making our life easy!
iOS app user
SEPSIS – The gateway to DEATH. The Android App SEPSIS – The excellent guide to fight against Sepsis.

Android app user
Sepsis Timer app
In sepsis, every minute counts. Treatment delays can cost the patient's life, but on busy hospital wards, delays and oversights can be common. SEPSIS TIMER is a timed checklist and clinical decision support app designed to help busy clinicians perform key sepsis treatment steps within recommended timelines.
SEPSIS TIMER is based on the Surviving Sepsis Campaign 3- and 6-hour sepsis treatment bundles that are also recommended by the Institute of Healthcare Improvement (IHI) and the US Centers for Medicare and Medicaid Services (CMS). SEPSIS TIMER allows users to easily schedule timers that issue periodic audio alerts and banner notifications until a checklist of required sepsis bundle steps is completed. Checklist completion times are recorded and summarized in a report so users can track and improve their response times.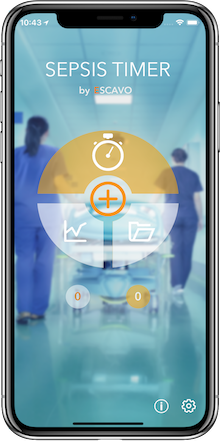 Another hit from the ESCAVO sepsis app company! This new app takes the recent changes to the sepsis guidelines and "implements" them on your phone using a slick interface, timers and notifications. This app is perfect for all providers who may be evaluating and treating septic patients and want to ensure "time hacks" are met for (ideally) improved patient care and various quality management groups. (see complete review here)
iMedicalApps Review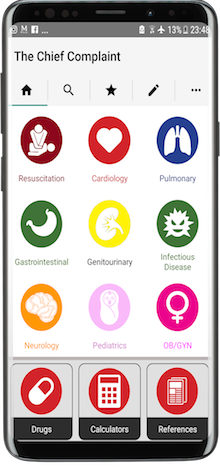 The Chief Complaint app
The Chief Complaint is a point of care medical reference app for emergency medicine. The app was written by Dr. Chris Feier, MD, an ER physician and associate professor of emergency medicine at the University of Southern California, and is based on a best-selling EM reference book by the same name. The Chief Complaint contains 100s of pages of up-to-date and evidence-based reference content presented in an algorithmic and easy to absorb manner that cover the most common conditions encountered in the ER.
Exhaustively referenced and containing a Journal Club feature and links to relevant external resources from EM:RAP, Essentials of Emergency Medicine, and theNTT.com for deeper content dives, The Chief Complaint is an invaluable reference for both trainees and experienced physicians. Find out more at thechiefcomplaint.com.
Great offline reference I have the actual book as well and it's nice to have the app when you don't have the book on you. Also works offline unlike some apps. Also great to be able to save some of the most used algorithms for quick access.
Android app user
One of the most useful apps I've found as a resident. We have to figure out a way to incentivize this app further so they will add to the more sparse sections (ob/gyn, tox). Amazing evidence based resources for CV, GI, pulm, trauma and more.
iOS app user
Excellent, concise, evidence-based, and cleanly presented guide for EM providers. Easy to navigate and packed full of great info. I use this all the time and recommend to colleagues frequently.
iOS app user